By timehub
|
22 Feb 2018
|
Share This
The challenges of managing a Payroll in the "Growing" economy.
Managing a payroll is challenging at the best of times, but when it involves staff working in industries which are part of New Zealand's "growing" economy such as horticulture, viticulture and agriculture it presents even greater challenges.
The adage that there is nothing more certain than death and taxes could be extended to include "payroll related changes" as these happen every year.
The fact that there has been media coverage in the past 12 months related to some employers in the horticulture, viticulture and agriculture industries struggling with the constant change and understanding their obligations, would indicate there is a need for more support. The fact that the Labour Inspectorate is saying "Farmers should aim to be best practice employers" just reinforces this point.
"Part of being a good employer is ensuring that everyone on your farm is getting all their minimum employment entitlements," says Labour Inspectorate regional manager Natalie Gardiner.

"This requires keeping good wage, time, holiday, and leave records, compliant employment agreements, and paying your employees all their entitlements such as for working public holidays.

"Our most recent investigation found 28 per cent of farms visited failing to meet their record keeping obligations, resulting in $11,000 in fines – and we want to see farmers do better this year.
Therefore, working with someone who specialises in this area rather than just "muddling through" on your own will be of benefit to anyone in a "growing" related industry.
We have been working with employers of all sizes and across all industries for over 25 years and in this time, we have worked with many businesses in the horticulture and viticulture space, including both growers and contract labour providers. (*See testimonial below from Focus Labour Solutions)
During this time we have paid close attention to the specific issues faced by these businesses and we work with payroll providers such as Crystal Payroll and PaySauce who have developed functionality to address the issues. Crystal Payroll was one of the first payroll providers to offer clients functionality such as:
The ability to calculates paid breaks for piece rate workers at the correct average rate.

The ability to automatically "top up" and employees pay to ensure that they are being the minimum wage even when they are paid on piece rates.

The ability to capture piece rate timesheets remotely, to name three.  
Without this functionality, employers would be forced to manually calculate these payments or as has been more commonly the practice among some employers - ignore them.
Having a finger on the pulse of payroll and employment legislation means that in addition to providing functionality such as that mentioned above our support team has been able to give clients guidance (not legal advice) related to systems and the employers' legal obligations in these and other areas. A key aspect of the support our team provides is that it is free, which means clients i.e. small business owners, are more likely to call us and ask a question rather than blindly carry on.
The reality is that the situation of constant (at least annually) change in the payroll space will continue. This is evidenced by the upcoming changes such as those related to PayDay reporting where employers will have to lodge their PAYE returns every pay period rather than monthly, a change in the way holiday pay in advance is taxed, the reintroduction of the rules around employee breaks, the annual increase the minimum wage threshold to name a few.
For our clients who use Crystal Payroll and PaySauce, these changes will be handled automatically as needed.
If you would like to have a no obligation discussion regarding your business and it's specific payroll challenges you can organise a time with me by clicking on this link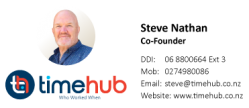 *Focus Labour Solutions
"We have used Crystal payroll for over a year now, we have between 50-200 staff depending on the season. It started with talking to Steve regarding our "special requirements" for our industry which is very hard to find a payroll system for. Steve understands our industry and what our issues are with changing work hours and working on piece rate. He has helped us with changing things in the system, he is quick at responding and always ready to help. I have found it great for us to have someone who I trust, who will look into things and find a solution to solve a problem" Barbara Mortensen - Accounts & Office Manager