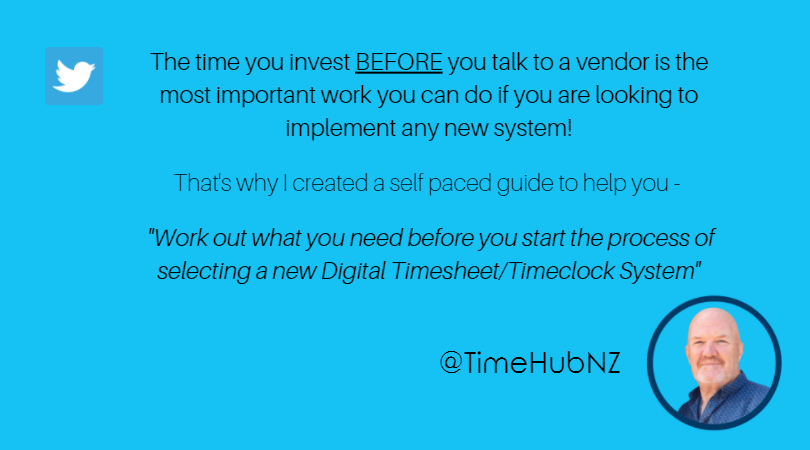 By timehub
|
29 Sep 2020
|
Share This
Selecting a "people Management system should be treated like any other strategic decision
Covid19 has forced many of us to change the way we operate our businesses. Manual, analogue systems simply don't cut it anymore. 
One area we are seeing businesses rethink their systems and processes is the tools they use for People Management i.e time & attendance and payroll.
There is no other system you could implement that will have more impact on your business than a system related to payroll and your employees.
These systems will impact EVERY person in your business.
They are mission-critical.
That's why I believe when it comes to selecting any "people management solution" it should be approached in a systematic and strategic way. Like any other major decision.
You need to work out your "why" and "select" a system rather than be "sold" one.
I have created a free, self-paced assessment tool to help you analyse your needs, so you know the Why, What, Where, How, When and Who BEFORE you talk to any vendors. 
Simply click the link below and work your way through the questions.
Once you have finished you will be sent an email of the questions and your answers. 
This will help you build a NEEDS template which you can use to ensure you select the best tool for your business.
Click Here: Work out what you need before you start the process of selecting a new Digital Timesheet/Timeclock System
#nopapertimesheets
#business #payroll #employees #accounting #hr #startup #smallbiz #entrepreneur
#smallbusiness #timeandattendance #sme #employment #buynzmade #nz #businessnz