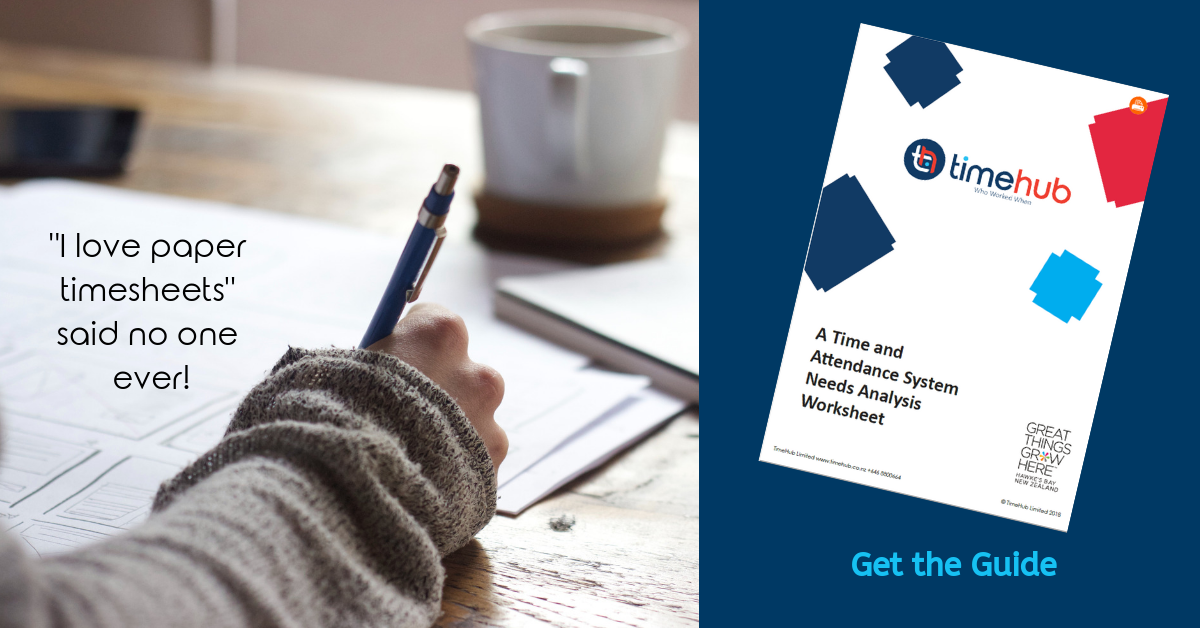 By timehub
|
12 Apr 2019
|
Share This
Why we are waging a war on paper timesheets?
We are waging war on paper timesheets because we care as much as you do that your employees are paid accurately and on time. We also want to make sure it is accurate for you the employer. This way it's a Win/Win.
12 years ago, we sold our 60 employee, 8000+ client, payroll software business Comacc The Payroll People to MYOB. Now we're back.
I didn't want to create a payroll system. Rather I wanted to add value to the payroll process and to be able to help employers and employees no matter what payroll system they used. 
Based on the 20+ years I have worked in the payroll space and also having employed staff in diverse businesses like Comacc and Salvare, I knew the way to add value was through improving the way data is captured. In particular employee time and attendance data i.e. by eliminating paper time sheets.
I knew that if an employee works 5 days a week and fills in a time sheet, their data will be touched over 25 times before it reaches their bank account.

I knew that paper time sheets are the most creative time and attendance record you could have and that some employees will write down what you need to see. 

I have seen keying and calculation errors when a supervisor or payroll person is working out the times or keying the data into the payroll.

I have seen employees receive or not receive allowances or overtime when they should due to calculation errors or favouritism.

I have seen more than one timesheet which was obviously completed by more than one person, one of whom was left handed as the handwriting was different!

I have watched as an employee wrote down what time she was coming back from lunch before she started her break!

I have seen paper time sheets where the employee forgot to write down that he worked a public holiday so would not have bee paid.

I have seen employees write down a time on their time sheet which did not match the actual time they clocked in.

I knew that losing just 4 minutes per day per employee could cost a business over $500 per year based on the average wage.
These are just some of the reasons I decided to create TimeHub our "Real-Time" Employee Attendance system and MyTimesheets our online timesheet system. We have created a system which eliminates time sheets by automating the task of capturing the hours' employees work as it happens. 
Employees can clock in & out using tablets or a smartphone (devices they use every day) and our simple "One Touch" timeclock app.

There is no need for specialist and expensive hardware.

Employees prefer to not fill in paper time sheets and they know if they clock in and out or fill in their digital timesheet their pay will be automatically calculated correctly, which improves trust.

Our employer portal sits in the cloud, so you can manage your employee attendance from anywhere. Even if you are offsite.

You can ensure compliance with the recordkeeping requirements of the Employment Relations and Holidays Acts.

Your employment contract payment rules for hours worked, overtime, leave and allowances are applied automatically.

You will improve accuracy and eliminate employee time creep.

You will never have to key your payroll data again as a pay file is uploaded to your Payroll system each pay period.
These are just some of the ways eliminating paper time sheets could help you to improve the way you manage your payroll. We care as much about ensuring that your employees are paid accurately and on-time, as you do.  
What should you do now?
We have created a self-paced workbook to help you work out how you can improve the way your employees track the hours they work. It will also guide you through the process of selecting the best tool for your business should you want to eliminate paper time sheets.
If you would like to speak to a human (our preferred method ♥) you can simply click here to either chat live online or book a time for a no-obligation review of your time and attendance needs.
Thanks 
Steve Nathan