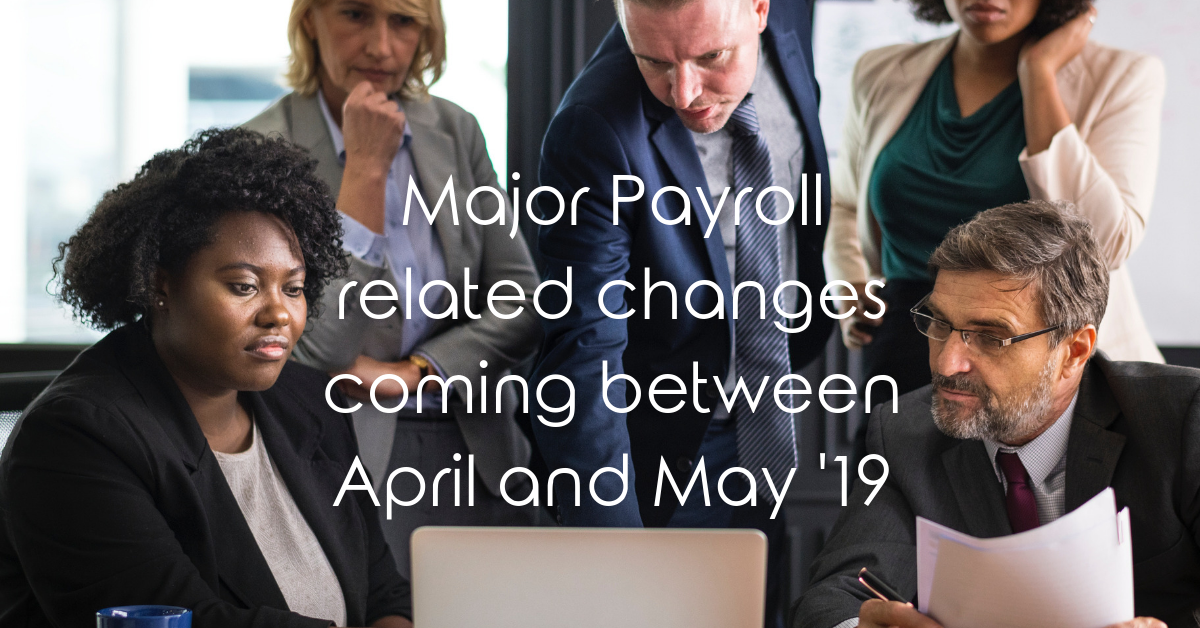 By timehub
|
21 Mar 2019
|
Share This
There are MAJOR changes coming which impact every employer!
To butcher an old expression - "there is nothing more certain in life than death and taxes changes to payroll"
Every year employers are subjected to changes around this time of year which will impact the way they manage their payroll, but this year is an extreme case. 
There are more changes, with a bigger impact, in a short space of time than we have ever seen. 
Between the 1st of April 2019 and the 6th of May 2019, there are FOUR changes which will impact every employer. One of them is probably bigger than anything we have seen before, while the other three will still a lot of consideration and could create extra work. 
In this post, we have summarised the changes. The key thing to remember is that there is no "oops I didn't know" option when it comes to these changes. 
The changes we will cover are:
PayDay Filing
From 1 April 2019 employers must:
file employment information every payday instead of an Employer monthly schedule (IR348)

provide new and departing employees' address information, as well as their date of birth - if they have provided it to you, and

file electronically (from payday compatible software or through myIR) if your annual PAYE/ESCT is $50,000 or more.
Note: The due date for payment remains the same, at the 20th of the month (or 5th and 20th of the month for twice-monthly filers). You can find out more here - PAYDAY Filing Overview
 Minimum Wage Act
The Minimum Wage will increase on April 1st.  Minimum wage rates apply to all employees aged 16 and over, who are full-time, part-time, fixed-term, casual, working from home, and paid by wages, salary, commission or piece rates (some exceptions). 
While the bulk of employees on the current minimum wage will see their rate increase from $16.50 to $17.70 there are exceptions. Find out more here - Minimum Wage Rates
Domestic Violence Leave (NEW)
The Domestic Violence - Victims Protection Bill, the first of its kind in the world was passed into law last years It aims to enhance legal protections in the workplace for people affected by domestic violence. The changes will come into effect on 1 April 2019. The Ministry of Business, Innovation and Employment (MBIE) is still developing guidelines for this new leave type which they expect to release on April 1st (the day it comes into effect) You can find out more detail here- Domestic Violence Leave
Employment Relations Amendment Act.
The Employment Relations Amendment Act 2018 was passed into law on 6 December 2018. It introduced a number of employment law changes that aimed to improve fairness in the workplace and deliver decent work conditions and fair wages.
The main changes included:
reinstating set meal and rest breaks

strengthening collective bargaining and union rights

restoring protections for vulnerable workers, such as those in the cleaning and catering industries, regardless of the size of their employer 

limiting 90-day trials to businesses with fewer than 20 employees.
Most changes take effect on Monday 6 May 2019. Find out more here - Employment Relations Amendment Act.
The key things with all these changes are:
If you are not sure- ASK someone

Check that your Payroll will cope

Check that your Employee Agreement is clear on these new changes. 

Ignorance is not bliss
If you would like help with any of this please email payrollhq@timehub.co.nz or click on the chat box in the bottom right hand corner >>