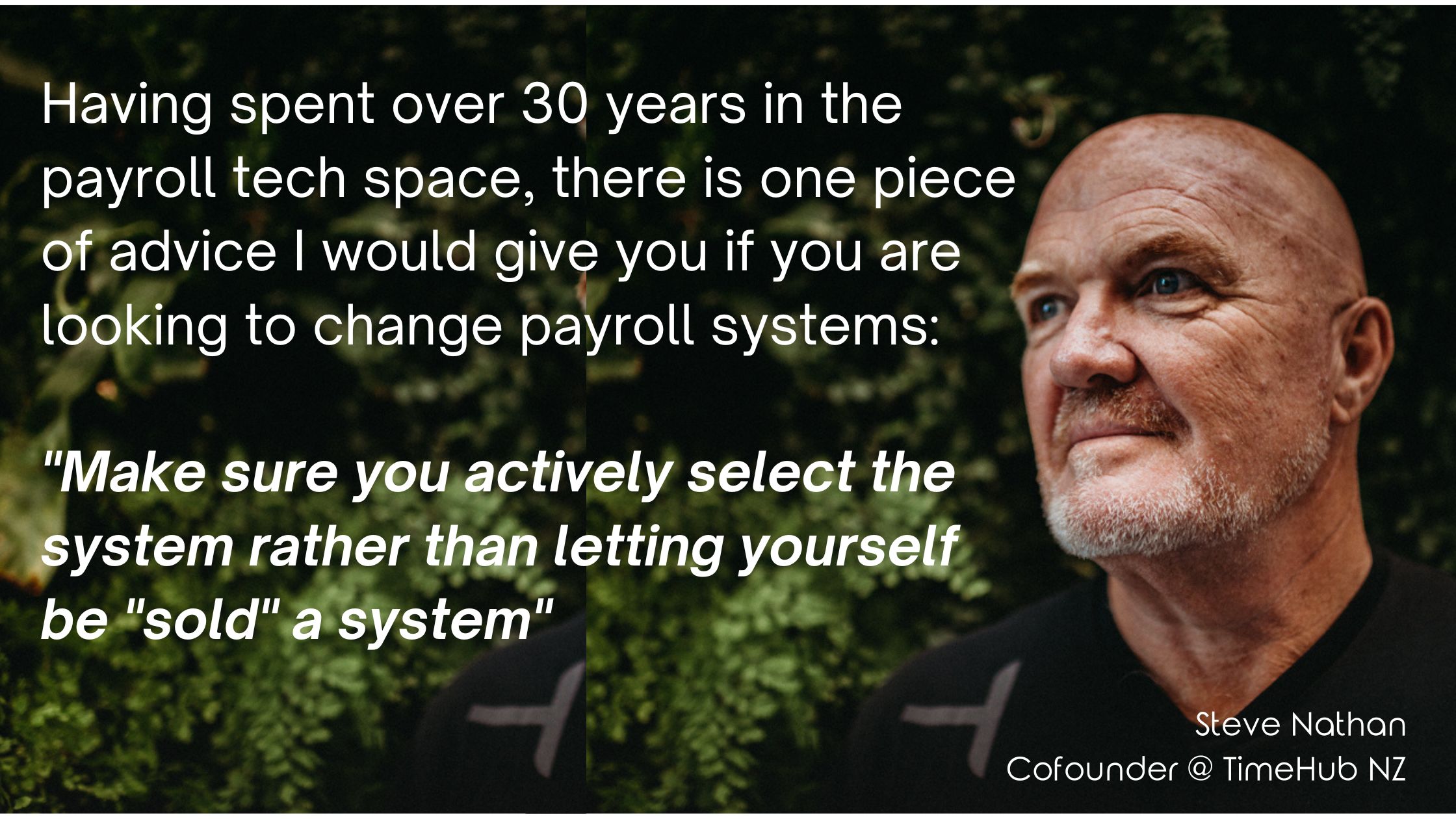 By timehub
|
26 Jun 2023
|
Share This
Choosing the Best Payroll System for Your Business: Tips and Questions to Ask Vendors
When it comes to running a business, few things are more fundamental than ensuring employees are paid accurately and on time. However, managing payroll can quickly become a headache for businesses of all sizes. That's why finding the right payroll system is essential.
With so many options available, selecting a new payroll system can be daunting. However, the rewards of finding a payroll system that meets your business's needs can be substantial. In this article, we'll explore some tips for selecting a payroll system that works for your business and provide ten important questions to ask vendors to ensure you're making the right choice.
Identify Your Business Needs
Before diving into the world of payroll systems, it's crucial to identify your business's specific needs. Every business is unique, so knowing what you require from a payroll system is an important step in selecting the best fit for your business.
Consider what specific functions you need from a payroll system. Do you need something straightforward and easy to use, or does your company require a more complex system with detailed reporting capabilities? Are there any particular features or integrations that your business requires? By clearly defining your needs, you'll be better equipped to find a payroll system that meets those requirements.
Research Your Options
Once you've identified your business's needs, it's time to research potential payroll systems. Don't simply jump at the first payroll system that looks appealing. Take the time to research multiple options, read reviews from current and previous users, and consider any features that stand out or could be valuable to your business.
Don't be Afraid to Ask Questions
During the selection process, don't be afraid to ask vendors questions that can help you understand how well their system meets your company's needs. Ask for references or a detailed list of features and capabilities. Take the time to understand the vendor's implementation process and what support they offer. Remember, the more you know, the better equipped you'll be to make an informed decision.
In addition to these general tips, there are specific questions you should ask vendors when selecting a new cloud-based payroll system. Here are ten of the most important questions to ask:
What Are the Features of the Payroll System?
Before speaking to a vendor, make a detailed list of what features are critical in your business, such as leave management, IRD compliance, reporting, and integrations. Then ask vendors to demonstrate how their payroll system meets your needs in these areas. Every business has different needs, so it's crucial to select a system that meets those individual needs.

What Is the Implementation Process?
Once you select a payroll system, you will need to implement it. The process can be complex, so it's essential to ask the vendor what the implementation procedure is. Determine how long it takes, what steps are involved, and what resources are needed. Establish expectations early on so everyone is on the same page.

How Is the Payroll Compliant with New Zealand Legislation such as the Holidays Act?
Compliance is essential for any business. Some aspects of New Zealand Legislation are complex and change constantly, so it's critical to ensure the payroll system is up to date. Ask the vendor how they manage compliance, who is responsible for it, and how they keep it current.

What Is the System's Security Like?
Security is a vital factor when selecting a cloud-based payroll system. Ask the vendor how they ensure the security of the system and the data it contains. Determine what security measures they use, such as encryption and restricted access, and how they manage backups. Also, ask what happens to your data should you choose to change again in the future.

What Are the Reporting Capabilities?
Reporting is essential for any business to analyze data and make informed decisions. Ask the vendor what reporting capabilities the system has. Determine whether you can customize reports, generate reports in real-time, and export reports in multiple formats.

What Is the Support Like?
Support is vital when selecting a payroll system. Ask the vendor what support they provide, such as phone, email, or chat. Determine what their support hours are, who provides the support, and the response time for support. Be sure to discuss this critical area when speaking with reference sites the vendor gives you.

What Integrations Are Available?
Integrations with other systems are essential for many businesses. Ask the vendor what integrations are available with the payroll system, such as accounting software, time and attendance systems, or HR systems. Determine what the process is for integrating the systems and what resources are required.

What Is the Cost?
Cost is a critical factor when selecting a payroll system. Ask the vendor how much the system costs and what the pricing structure is. Determine whether the pricing is based on the number of employees, usage, or a combination of both. Compare the cost of the system to other systems on the market to determine whether it's a good value.

What Is the Vendor's Experience and Reputation?
The vendor's experience in the New Zealand market and reputation of the vendor is essential when selecting a payroll system. Ask the vendor for references or case studies and do some research on the vendor's reputation. Check online reviews and ratings and ask others in your industry if they have experience with the vendor. If you need the payroll to integrate with other third-party systems such as a time & attendance system, speak to that vendor and ask how their other clients have found working with this vendor or their system.

What Is the Vendor's Future Roadmap?
The final question to ask a vendor when selecting a new cloud-based payroll system is what their future roadmap is. Determine what features they plan to add to the system, what integrations they plan to support, and what the timeline is for these additions. Establish whether the vendor plans to continue developing and updating the system to ensure it meets your business needs.
Conclusion
In conclusion, choosing the right payroll system for your business is not a decision that should be taken lightly. By identifying your business needs and researching potential options, you'll be able to make an informed decision and select a payroll system that meets your needs.
When considering a new payroll system, be sure to ask vendors the important questions outlined above. By doing so, you'll be able to determine whether a particular system is right for your business and avoid the pitfalls of selecting the wrong system.
Remember, the right payroll system can make managing payroll easier and more efficient, so take the time to find the right fit for your business. 
We have helped many of our TimeHub clients select and implement a new payroll. So if you would like to have a no-obligation (and no cost) chat about payroll alternatives or just want to talk through the process of selecting a system, I am happy to help. Just use the link below to book a time in my calendar.
Steve Nathan, Co-Founder @ TimeHub
Click here to book a time to chat with me about payroll systems