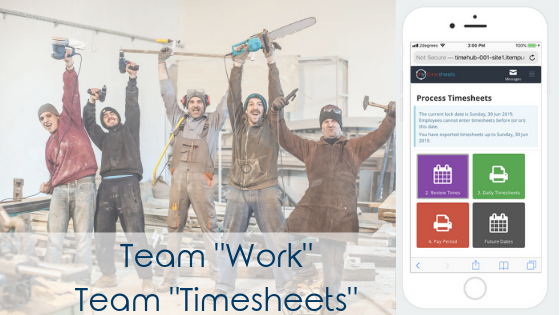 By timehub
|
9 Jul 2019
|
Share This
We're excited about our new "Team Timesheets" functionality we are adding to MyTimesheets.
So we thought we would give you a quick preview.
At a recent Horticulture Field Days in Hawkes Bay we were asked a lot about the ability to capture multiple timesheets with one entry ie where you have a group of employees working in a team doing the same thing.
This applies a lot in the horticulture, viticulture, cropping space, especially with contract labour.
This new feature will allow to enter timesheets in REAL Time for any sized team based on start/finish, hours worked, piece rates etc and record where and what work was done. You can also enter things like Paid Break and Leave etc.
Then feed this data to your payroll.
If you provide contract labour you will even be able to have the client sign off on the time sheets.
If you would like to have a chat or book a demo just use the chat app in the blue bubble.