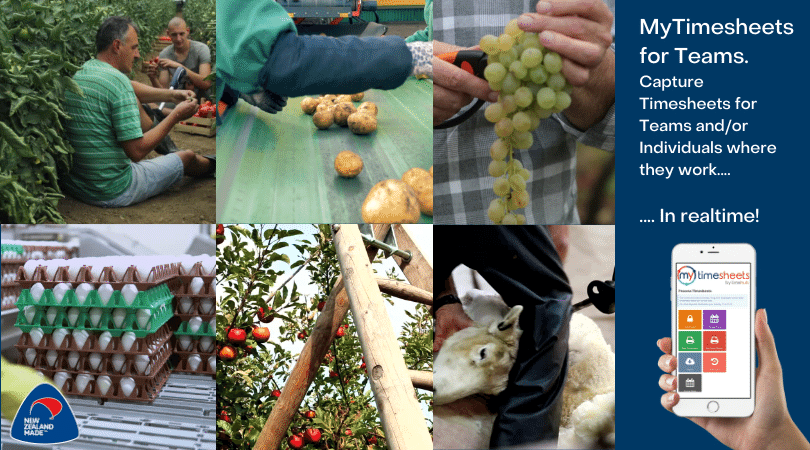 By timehub
|
13 Oct 2020
|
Share This
Managing "Team Timesheets" in the "Growing" economy with MyTimesheets for Teams
(Click the image to watch a quick overview of how easy it is to manage team timesheets)
Managing a payroll is challenging at the best of times, but when it involves staff working in industries which are part of New Zealand's "growing" economy such as horticulture, viticulture, cropping, forestry, shearing and agriculture it presents even greater challenges.
"Part of being a good employer is ensuring that everyone on your farm is getting all their minimum employment entitlements," says Labour Inspectorate regional manager Natalie Gardiner. "This requires keeping good wage, time, holiday, and leave records, compliant employment agreements, and paying your employees all their entitlements such as for working public holidays"
At a Horticulture Field Days held in Hawkes Bay last year we were asked a lot about the ability to capture individual and/or multiple timesheets with one entry ie where you have a group of employees working individually or in a team doing the same thing.
The other challenge with capturing data is that these teams can work in remote locations, making it even harder to capture the data in a timely fashion in order to process your payroll. How much time do you spend each week chasing late, inaccurate or illegible timesheets?
So we set out to solve this problem and created MyTimesheets for Teams.
This new feature will allow you or a team leader to enter timesheets in REAL Time for any sized team based on start/finish, hours worked, piece rates etc and record where and what work was done. You can also enter things like Paid Break and Leave etc. 
The data can be captured on any smartphone, tablet or PC. Even if the smartphone or tablet is offline. Plus you can GPS locate the timesheet to ensure staff are where they should be.
Then this data can be feed to your payroll and job costing systems.
If you provide contract labour you will even be able to have the client sign off on the time sheets.
If you would like to have a chat or book a demo just click on this link and grab a time in my calendar or email steve@timehub.co.nz